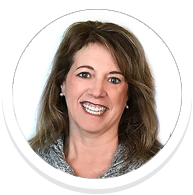 Personal Event Coach
Why I love Get Movin'
and my role in helping schools
My favorite part about working for Get Movin' Fundraising is when I receive a phone call or email from a chairperson telling me how excited they are! "We just reached our goal! "or "Our Principal just told us how happy she is with our results!" It's then that I know what I'm doing is making a difference.
My background with school parent groups or event style fundraisers
I was fortunate enough, years ago, to have joined a great PTA group at my daughter's school. My first two years on the board were spent as the Volunteer Coordinator. The following two years, I stepped into our Ways & Means position. At that time, our school was using an outside company to host our annual Fun Run and I was asked to find an alternative to save money. I attended that year's PTA Launch and discovered Get Movin' Fundraising. I was sold right away, used them that year, and our school raised and kept more money than we ever had. Needless to say, I was so impressed with the company that I jumped on board. Today, I still volunteer at my children's school and am still a member of our PTA board.