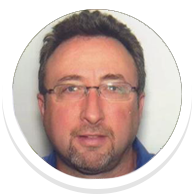 Why I love Get Movin'
and my role in helping schools
I love my role at Get Movin' as it provides the perfect opportunity to use my 25+ years of IT experience to ensure a comprehensive, stable, and secure fundraising platform. It is incredible to see how hard our parents and volunteers work to support our schools and their initiatives, and I look forward to supporting their efforts by making fundraising as easy as possible through our online platform. While I have worked in, and supported various industries over the years, being a part of the Get Movin' team is one of the most fulfilling work experiences I have ever had. This is due to the fact that we are able to provide real value to our schools and students.
My background with school parent groups or event style fundraisers
Raising four children provided many opportunities to be involved with various schools and athletics programs over the years. Through these experiences I have a profound respect for our teachers, parents, and volunteers that work hard to try and improve our schools. Starting, tracking and completing a fundraising event is not easy, especially when many are already working a fulltime job. I firmly believe that Get Movin' helps to solve some of the time and logistical issues of the past fundraising mechanisms, by providing a fundraising solution that is made for how we operate today.